Back to all posts
Posted on
Paul Rowe Students Can Now Fundraise for the Terry Fox Foundation Online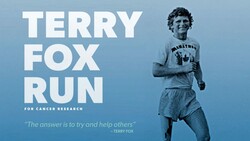 We are excited to announce that our school will be proudly taking part in the 2021 Terry Fox School Run/Walk.  At Paul Rowe, this event is scheduled for Friday, October 1 during SOLE block.  While this year's event might still look a little different from previous years, we can continue to show the great strength and resiliency of our school community with your support of one of our greatest Canadian heroes, Terry Fox. Let's all use Terry's message of hope and strength to inspire us during these challenging times.
The Terry Fox Foundation has created an online fundraising page for our school.  Those who wish to donate online may do so at https://secure.terryfox.ca/registrant/TeamFundraisingPage.aspx?TeamID=943281.  There is no minimum donation, every dollar counts!  Receipts are issued immediately to donors by email.
We are very excited to be a part of this year's Terry Fox event. This is our opportunity to "Try Like Terry" and go the distance for this year's event.  Please join us to support cancer research while building incredible school spirit for all of our students. Thank you in advance for your support!