Back to all posts
Posted on
Our First Digital Mailout has been E-mailed to all Parents & Guardians!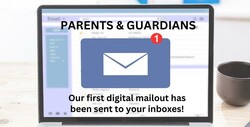 Our new school digital communication policy comes into effect today, with the items that would traditionally be sent home with our monthly mailout being sent to parents and guardians by Email.  Copies of non-confidential documents that were sent home with the November 4th e-mailout, can be found below, as well as on the Documents page of our website. 
Important: Confidential documents pertaining to individual students may be included in some parent/guardian emails.  For example, individual PowerSchool user information (to view report cards, marks and attendance), individual program plans, student timetables, etc.  For this reason, it is very important that parents and guardians open emails from our school to view a list of all file attached.  
If you are a parent or guardian who did not receive the November 4th email, please contact our school office at (780) 836-3397 to confirm your contact details.
IN THE NOVEMBER 4th MAILOUT:
From the School:
Raider's Report School Newsletter
This month's newsletter highlights include: 

New Online Option to Book Parent/Teacher Interviews
New Staff Member
School Council & School Foundation Information
Save the Date: Annual Family Christmas Celebration with Turkey Dinner 
Event, Academic & Athletic Updates
2021-2022 Awards Day Recipients

Home Ec. 7 Sewing Unit Supply List (all grade 7 students) 
Our Grade 7 class students will soon be moving to Home Ec. for their Options class.  Caregivers are asked to have the items on the Sewing supply list for their students by mid-December.  This will allow them to complete their sewing unit and move onto the Foods unit as soon as possible.  Families who are unable to purchase these supplies for any reason should contact our school office at (780) 836-3397 to discuss options.


Diploma Exam Schedule (for students enrolled in 30-level courses)
Diploma Exams for 30-level subjects begin Thursday, January 12.  Students who are enrolled in English 30-1/2, Math 30-1/2, Biology, Chemistry, Physics or Science 30 will also be informed about these dates by their classroom teachers.
From our school Citizenship Group:
Christmas Hamper Program Information
This informational hand out has all of the information that is needed to refer individuals or families and to donate cash, food, toys or gifts.
Our school will accept donations for the Manning Community Christmas Hamper Program until Thursday, December 7th.  Items will be delivered to organizers Friday, December 8th.
Wellness Supplements:
Healthy Teens Family Newsletter (Alberta Health Services)
The topic this month is "Consent and your teen"

Caregiver Education Team Newsletter (Alberta Health Services)
Alberta Health Services is proud to offer FREE online programming to caregivers of school-age children and youth as well as adults in the community who want to learn more about addiction and mental health topics.