Back to all posts
Posted on
Camp Rock Auditions Open to All Grade 5-12 Manning Students!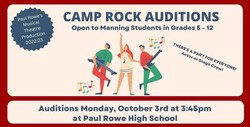 We have re-chosen "Camp Rock" as Paul Rowe's Musical Theatre Production for 2023/23! Actors from grades 5-12 are needed, as is a stage crew! There will be a part for every student who wants to participate! This is opportunity is open to Paul Rowe, MES and Rosary students who are in grades 5-12.
Auditions will be held Monday, October 3rd at 3:45 at Paul Rowe High School. Any students who are unable to attend auditions at this time should contact Mrs. Presakarchuk through our school office at (780) 836-3397 or through our Staff Directory.
If we are able to get enough actors and crew, rehearsals will be Mondays from 3:30pm to 6pm and the production will be in May.