Back to all posts
Posted on
Updates Made to Alberta Daily Health Checklists for Adults and Children (January 2022)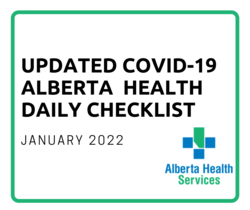 Updates have been made to the Alberta Health Daily Screening Checklist.  Parents and guardians must use this updated checklist on a daily basis prior to sending their child(ren) to school.  To access the updated form click here.
If there are any questions, please contact our school office.  
We thank everyone for their continued support.