Back to all posts
Posted on
Students' Return to School Delayed Until January 10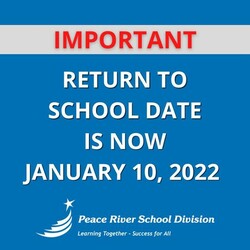 As you may be aware, the provincial government announced on December 31 that:
"Alberta will delay the return to school for kindergarten to Grade 12 students until January 10, due to concerns surrounding the highly transmissible Omicron variant.
The holiday break extension will allow staff and school boards to better prepare for a return to classes, Education Minister Adriana LaGrange said. Diploma exams for high school students will be cancelled, as they were to start on January 11."
Thank you for your patience and understanding during this time.