Back to all posts
Posted on
Remembering the lives affected by Residential School history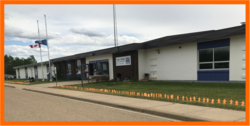 Recently, our nation learned the tragic news of 215 undocumented children's remains found at a residential school in Kamloops, BC. This news has sent our nation into mourning and has touched every Canadian. In response to this news, the Paul Rowe Aboriginal Studies 10/20/30 class felt strongly that they honour these children and their families, and continue sharing with others how the
generational trauma that Indigenous people across our country, province and town continue to struggle with. We recognize that residential school history has affected us all and that we have families in Manning that have been directly impacted by this news. To honour the children, students cut out 215 small human figures that will line our front sidewalk as a way to pay tribute to them and acknowledge their families' loss. Paul Rowe students and staff stand with the Truth & Reconciliation Commission's 94 Calls to Action. This act of remembrance will be on display for 215 hours to June 9th. If anyone is experiencing difficulty with this news, please contact the helpline Indian Residential Schools Crisis line at 1-866-925-4419.
This is how we at Paul Rowe wanted to join our voices with the division, province and nation in showing our respect for those who have been affected by this loss.
Thank you to all who helped us with this project!