Back to all posts
Posted on
New Online Booking Option for November 23rd Parent/Teacher Interviews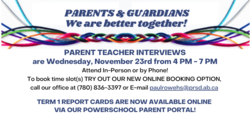 Term 1 report cards are now available online through Peace River School Division PowerSchool Parent Portal.
Parents and Guardians are encouraged to review student's report cards, as well as attend Parent/Teacher Interviews on Wednesday, November 23rd from 4 PM - 7 PM. 
Interviews may be attended in-person or by phone.  Individual preferences will be recorded at the time of booking, along with a phone number for those preferring meetings by phone.
To book appointments with individual teachers, please choose one of the following options:
Book online (NEW!)
Phone (780) 836-3397 during school hours
E-mail paulrowehs@prsd.ab.ca
For more information about accessing report cards or booking Parent/Teacher Interviews through our online Bookings platform, please refer to the links below:
How to Access Report Cards via PRSD Powerschool
Step-by-step Instructions for Booking Parent/Teacher Interviews Online
Please do not hesitate to contact our school office if you have any questions, concerns, or if lack of access to technology prevents individuals from accessing the online report cards.