Back to all posts
Posted on
Mask and Rapid Test Kit Information for Families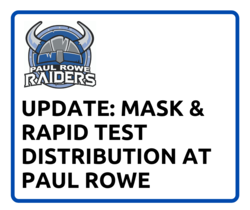 Copy of email sent to parents/guardians January 12, 2022
Dear Paul Rowe Families,
The masks and rapid test kits arrived at the school. We will be providing each student a two week supply of masks and one rapid test kit. They will be sent home with students on Thursday (January 13). We will distribute the masks and kits to the students every two weeks.
Rapid Test Kits:
Rapid tests will be used to detect infections early and reduce the spread throughout our schools and communities. Each kit contains 5 rapid tests because it takes time for your body to develop enough protein to be detectable by a rapid test after being exposed to COVID-19. Repeated screening can help detect infections as soon as possible.
It is recommended to perform rapid tests twice per week, preferably Sunday evenings and Wednesday evenings for two weeks. This ensures that there is one test left over in case any of the previous tests provide an invalid test result.
Please watch the videos below on how to perform a rapid test on yourself and on your child:
How to Perform a COVID-19 Rapid Test:https://www.youtube.com/watch?app=desktop&v=SWPa39AuFkY
The Alberta Health Daily Checklist is attached with further information.

Masks:
20 masks will be given to students every 2 weeks. Students will keep 10 masks at school in their lockers and take 10 masks home. This enables the students to have a mask to come to school with and also have one here at school to change at lunch. Students are still allowed to wear three-layer cloth mask if they are an approved mask and fit the student correctly.

Please do not hesitate to contact the school if you have any questions.
Matt Taylor
Principal
Paul Rowe Jr/Sr High School
(780) 836-3397