Back to all posts
Posted on
"High School Musical" Tickets on Sale Now!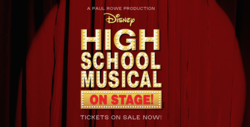 A PAUL ROWE PRODUCTION
DISNEY'S "HIGH SCHOOL MUSICAL" 

TICKETS ARE ON SALE NOW!
Friday, June 17th
Dinner Theatre Performance $40
Doors open at 5:30
Supper served at 6pm,followed by show at 7pm
Tickets must be purchased by Friday, June 10th.
**Dinner is prepared and served by the Paul Rowe Travel Club**
Saturday, June 18th
Matinee Performance - Show only $10
Children 5 and under free
Doors open at 2:30pm. Show starts at 3:00pm
Advance ticket sales - tickets will only be sold at the door in the event we don't sell out in advance
All tickets can be purchased at the Paul Rowe Junior Senior High School office.  Debit is available.