Back to all posts
Posted on
2022-2023 Parent and Student Orientations Begin May 26th!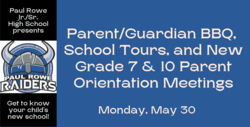 PARENT BBQ, SCHOOL TOURS and NEW GRADE 7 & 10 PARENT ORIENTATION MEETINGS ARE MONDAY, MAY 30

5:00 PM—6:00 PM  BBQ & School Tours
Open to all parents/guardians of students attending Paul Rowe currently or in the 2022-2023 school year.  Note: Families unable to tour the school at this time may contact the school office to make alternate arrangements.

6:00—7:00 PM  Grade 7 & 10 Parent Orientation Meetings
Open to all parents/guardians of current Grade 6 students at MES and Grade 9 students at Paul Rowe and Rosary Schools.
Student visits are planned for:
Thursday, May 26 MES Grade 6 Visit #1
Monday, May 30  Rosary Grade 9
Thursday, June 9  MES Grade 6 Visit #2